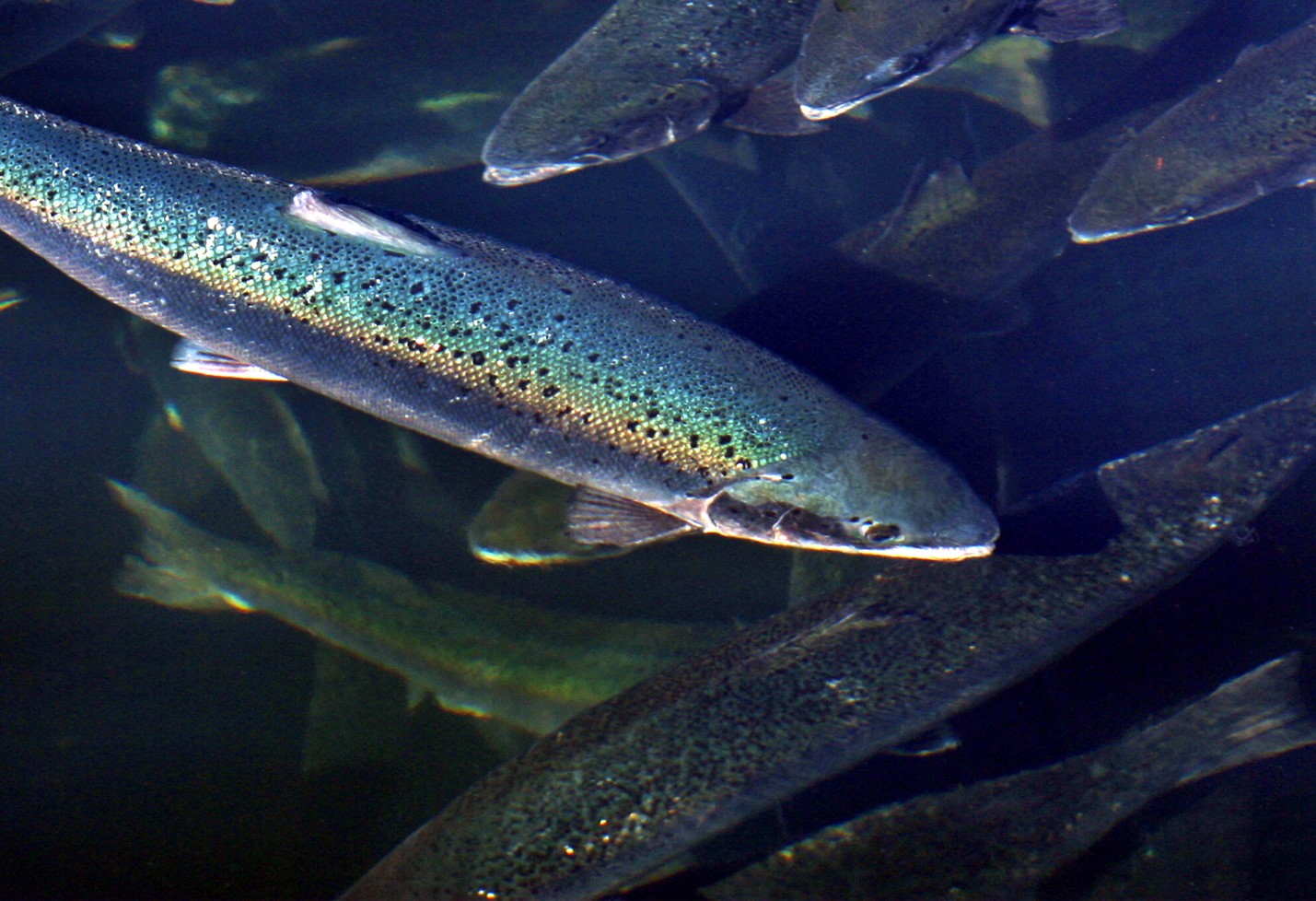 AL SEIB/LOS ANGELES TIMES VIA GETTY IMAGES
UAE's Ocean Harvest plans salmon farming in the desert
The company with agtech roots has a new CEO, an initial fundraising target of $180 million and an ambitious blueprint
ABU DHABI, United Arab Emirates – Five years after Pure Harvest pulled in its first hydroponically grown tomato crop, setting the Abu Dhabi-based company on a path to becoming one of the Gulf's biggest agtech firms, co-founder Robert Kupstas is ready to grow something different: fish.

The entrepreneur's latest venture, Ocean Harvest, which he founded in 2021, has raised $2.1 million in seed funding, set up shop one floor away from Pure Harvest's offices and hired an industry veteran in aquaculture. Last month the company named a new CEO, venture capitalist Jawad Jamil, making a team of three that is ready for the next phase: a Series A fundraising round with a $180 million target of mixed equity and debt. The money will go to fund a 100,000-square-meter facility planned in the northern emirate of Ras Al Khaimah and later expansion into Saudi Arabia and markets in Asia.
"We're looking for strategic investors, sovereign wealth funds, impact investors [and] infrastructure investors because we need those kinds of shareholders," Jamil told The Circuit. "They are the ones who are not just looking at pure financial returns … getting my 3x, 5x [returns] and getting out. They have the understanding, the patience that is required to understand the intricacies of building such complicated infrastructure. And there's more at play."
Indeed there is: The UAE imports 90% of its food and agriculture contributes less than 0.1% to GDP, according to a 2023 government report.
Mariam Hareb Almheiri, minister of climate change and environment, has called aquaculture "a core component of the UAE's national food security strategy".
Growing salmon in the desert is not all that outlandish — the UAE has been making forays into the booming fish farming industry in recent years.
The first UAE-raised salmon hit grocery stores in 2019 from Dubai start-up Fish Farm, which last year signed a major distribution deal with ASMAK, a UAE seafood conglomerate with operations across the Middle East and North Africa region. In 2021, Abu Dhabi Investment Office lured one of the largest indoor salmon producers in the world, private equity-backed Pure Salmon, to move its headquarters from Singapore to Abu Dhabi to develop more inland salmon production in the UAE.
Demand for seafood is high in the UAE and Ocean Harvest believes there's enough room at the table for multiple players.
Annual per capita fish consumption is the highest in the Gulf Cooperation Council and almost 50% above the global average of 45 pounds per capita. While the UAE's aquaculture ventures go beyond salmon farming, salmon is the country's second-most consumed fish, nearly all of it flown in from colder climates, according to Center for Strategic and International Studies, a Washington, D.C.-based think tank.
In the same way Pure Harvest flew over ladybugs, bumblebees and tomato seedlings from Holland to propagate its first crop, Ocean Harvest will buy salmon eggs from Norway, Iceland and Denmark, carried on planes in styrofoam boxes to start the Ras Al Khaimah hatchery.
Ocean Harvest is using a popular method for fish farming, known as a recirculating aquaculture system.
The plan is to raise salmon without using antibiotics or pesticides, common additions to farm environments to combat parasites and bacteria from fish feces.

Bruno Sardenberg, who is overseeing the Ocean Harvest project and then will manage production operations once open, believes it can be done. Water from the tanks will be recirculated every 30 minutes, cleaned by a system developed by French water treatment company Suez.
The timeline is ambitious. Ocean Harvest hopes to raise its Series A funding round and begin commercial-scale operations at its first hatchery by 2026. The salmon will be mature enough for sale by 2028, when it is targeting 3,500 metric tons of fish in phase one, with a staff of 50 at the farming site. Within five years, Ocean Harvest is aiming to expand to 6,000 tons of fish and 85 employees.
The startup has lined up "take-or-pay" off-take contracts, meaning the customers buy the stock when it becomes available or face a fine, with four customers for 82% of phase one and is eyeing hotels, airlines and grocery stores as potential customers, in addition to the seafood distributors it has already signed deals with. It has forecast revenue in 2028 of $35.6 million. By 2030, it expects revenue of $43 million.
Amid the current market downturn and muted venture capital activity, these fundamentals are important, Kupstas, an American who got his master's in international policy from Stanford, said.

The timing is difficult for the co-founder.

"I started working on the idea for Pure Harvest 10 years ago," he said. "I think we're all ready to see some personal reward from that investment."
But for now, there are no plans to take Pure Harvest, which has raised $387.1 million in venture capital, public. Kupstas expressed relief over not merging with a blank check company during the SPAC wave three years ago.
"We're fortunate in that both companies have runway," he said. "I think we just need to keep our heads down and just deliver on fundamentals."